The Department of Drug Administration (DDA) stops all online pharmacies in Nepal. In a statement from 25th March, 2021, this government body urges to limit these activities.
We include this statement here.
Article number 19 of the drugs act, 1978 (2035 B.S.), there is legal restriction on false and illusionary advertisement of medicines. Various online magazines and portals are selling prescription drugs and providing discounts. This is an illegal issue and in highlight in various mediums. Even, DDA has taken this seriously. Anyone advertising drugs related information should take prior permission from this department. The department condemns all these activities. In order to respect the law, this department requests all those to stop online pharmacy immediately. We also iterate that there is no provision of online pharmacy in medicine act.
Additionally, no registration is there in DDA office of a single online pharmacy. We advise all the customers that they will be responsible for any complications arising from this illicit behavior. Since, providing discounts and selling online is against law, we caution every stakeholder responsible for this activity. If this activity continues, everyone doing these activities will be penalized according to law.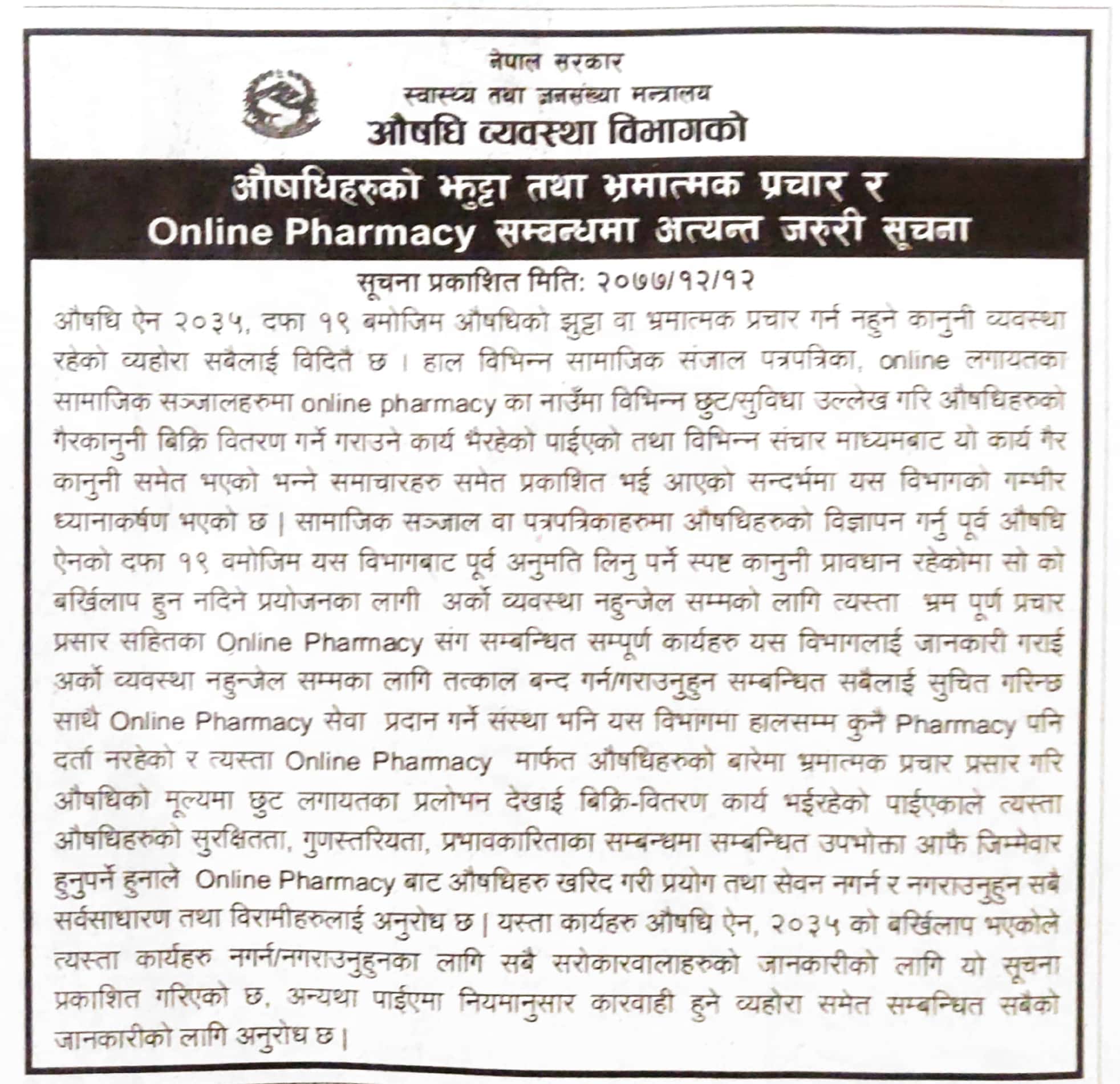 Salient features of the Drug Act, 1978
First Amendment on 1988 and second on 2000 AD
Chapter 1 includes short title, extent and commencement.
Chapter 2 has provisions for Drugs Advisory Council and Drugs Advisory Committee
There are forty articles in this law.
The Department of Drug Administration forms under the 5th article
First amendment provides consent for Drug Research and other laboratories.
Recommendation letter from department prior to government approval is necessary before establishing a drug industry.
Before manufacturing any new product, product license is mandatory.
Any drug before selling must get its approval from the department.
Similarly, any drugs before importing must get its entry into the department's record before such action.
The license is valid for two years. After that, one should renew it.
No person shall manufacture, sell, distribute, export, import, store, or cause to do same or cause the consumption of, a drug which is not safe for public consumption, efficacious and of quality standard.
No person shall misuse or abuse drugs
We also like you to see our online pharmacy article