Fexomed 180mg is a formulation of Fexofenafine hydrochloride 180mg. It is a product of Amtech Med in Nepal. Amtech is a very popular general medicine company from Morang Nepal and is well popular amongst all pharmacists.
Fexomed 180mg comes in a package of 10 tablets each. The tablets appear green. As of this writing, each tablet cost NPR 15 to the patient and each strip costs Rs. 150.
Being a fexofenadine, it belongs to the family of antihistamines. It comes in use in variety of conditions. Some of them are runny nose, sneezing, itching, chronic allergies, and conjunctivitis.
You can take this medicine with or without food. Please take this medicine as long as your physician suggests. Adverse drug reactions are less and you may suffer from headache, nausea, drowsiness occasionally.
1. How Fexomed 180mg works?
Fexomed selectively antagonizes the H1 receptors in your body. Thus inhibiting the production of allergic response. This also curbs any ongoing allergic responses in your body. It is a newer generation of antihistamine, thus has lesser or minimal sedative properties.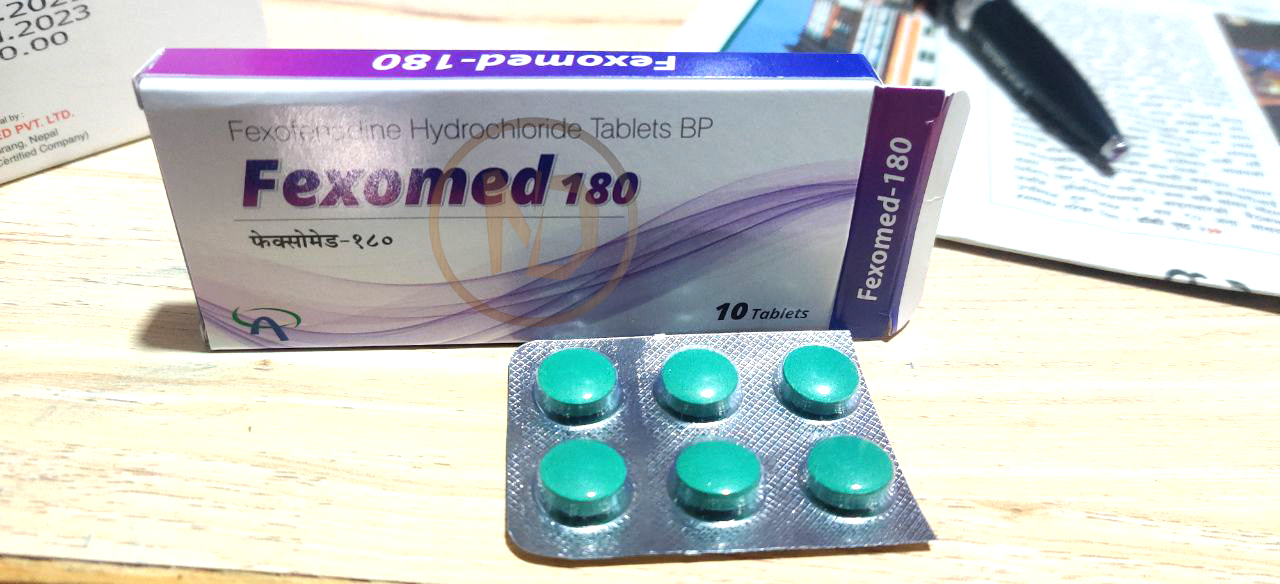 2. How to use Fexomed?
You must use one tablet daily. However, if your condition is severe, you may have to take up to twice daily. Take this drug after your meal. Swallow this tablet in whole with an ample amount of water or any other fluid. Do not chew, crush or break this tablet. Take Fexomed tablets in the same time of the day.
WHICH AGE GROUP IS THIS DRUG SUITABLE FOR?
Fexomed can be taken by children more than 10 years and adults of any age. However, This drug is dangerous for pregnant as well as lactating mothers as it falls in FDA category C drug.
3. Other safety concerns
Do not take this drug during driving. You may also take this drug if you have kidney or liver diseases. Overall, Fexofenadine is a very safe medicine. Be extremely cautious if you are pregnant or lactating.
Superiority over other drugs
Fexomed 180mg is definitely superior over cetirizine. On the other hand, levocetirizine like Levohist is much superior to Fexofenadine, according to the study by Friedrich Horak et.al.
4. 11 Frequently asked questions about Fexomed 180mg
1. What is the use of Fexomed? 
It is a brand name of a fexofenadine, which belongs to the class of antihistamines. It works by blocking H1 receptors and hence the action of histamine. Thus, it relieves all allergic responses that arise in the body.
2. What is the best time to take Levohist? 
The best time is in night time, before going to bed. If you have to take twice, take this drug at least one hour after your meal both in the morning and evening.
3. How long does it take for work? 
Action starts within one hour. But to get ample relief you will have to take this drug for at least 2-4 weeks. You may still have some symptoms during this time. 
4. Is this drug safe safe? 
Yes, Fexomed is safe in most of the conditions. We recommend talking to your doctor to get best results in this scenario. Avoid using in pregnancy and lactation since it falls into USFDA category C
5. Can I take this drug if I am fasting? 
Yes, you can take Fexomed, if you are fasting or even intermittent fasting. 
6. Can I stop taking Levohist if I feel better? 
The time of prescription is usually limited for this molecule. However, if you have to take it for a long time, consult your doctor.
7. Does this drug cause weight gain? 
There are only a few reports that may cause weight gain while intaking this drug. So, consult your doctor for any weight gain concerns
8. What if I overdose this drug? 
Contact your health personnel immediately in this regard. Though there are no such systemic toxicity and antidotes for this drug, we request you be vigilant. 
9. Can I take this drug with Fexomed? 
Alcohol doesn't interfere in the mechanism of action of this drug. However, you may feel more drowsy of you take it with alcohol.
10. Can I take antacids with this drug? 
Antacids and PPIs are usually of no use with this drug.
11. What other dietary changes should I make while taking this drug? 
We recommend you take a lot of fibers and fluids during intake of this antihistamine.
5. Quick tips 
Take this medicine in the night.
You can well tolerate this medicine. But, you must take in time and avoid certain things. 
Avoid beverages, alcohol and smoking while taking this drug for best results.  
Consult your doctor if you don't see any effect for 2 weeks. 
Don't stop taking this medicine before consulting your doctor. 
Call your doctor immediately if you develop edema, decreased urination, severe vomiting and rashes
Avoid Fexomed 180mg in pregnancy
6. Summarizing Fexomed 180mg by Amtech
Manufacturer: Amtech Med Private Limited
Available in combination: No
Addiction: None   
Bioavailability: 70-80%
Metabolism: Liver 
Excretion: Faeces, Urine 
Therapeutic class: Gastrointestinal 
Action class: Antihistamine 
Price: Six Rupees 
License Number: 10521
Drug Type: Category C 
Availability: In all pharmacies, Online
Prescription Required? : Yes
Disclaimer
Though medical professionals have written content on this website, you must take these for informational purposes only. We request to consult your physician before using any drug and supplements mentioned in this portal.