Apley tablet is a newcomer in Nepalese nutraceutical market. It is a product by Atulya Medilink. It is a perfect blend of calcium, multivitamins, minerals and prebiotics.
Apley is the first brand containing Calcium bisglycinate, Berberine and policosanol in Nepal.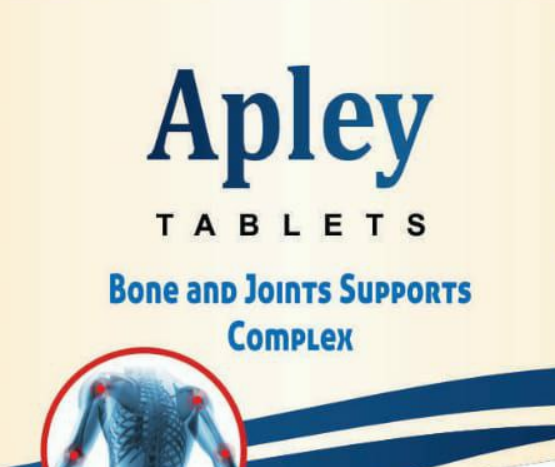 1. Constituents of Apley tablets
Calcium bisglycinate is present in the amount of 1000mg in this supplement. Besides, there is 720 IU of vitamin D, 2 mg of ALA, 25mg Magnesium and 100mg of vitamin C.
The other constituents of this supplement are 100mg of berberine, 180mg of DHA, 120mg of EPA and 330mcg of biotin.
| | | |
| --- | --- | --- |
| S.N. | Composition | Qty |
| 1 | Calcium Bisglycinate | 1000 mg |
| 2 | Vitamin D | 720 IU |
| 3 | Fish oil | 260 mg |
| 4 | Magnesium | 25 mg |
| 5 | Berberine | 100 mg |
| 6 | Prebiotic blend | 60 mg |
| 7 | DHA | 180 mg |
| 8 | EPA | 100mg |
| 9 | Niacinamide | 18 mg |
| 10 | Policosanol | 23 mg |
| 11 | Vitamin A | 900 IU |
| 12 | Pantothenic acid | 20 mg |
| 13 | Biotin (B7) | 330 mcg |
| 14 | Ascorbic acid | 100mg |
| 15 | ALA | 2mg |
| 16 | Potassium | 2mg |
Apley also contains microcrystalline phosphate, dibasic calcium phosphate, starch, sodium starch glygolate and anti-caking agents.
Other molecules that are in this capsule are binding agents and preservatives. There are more vitamins to compensate loss due to overstorage.
2. Where to use these tablets?
The indications are similar, like that of OG-Cal-QD. To name a few, these are chronic back pain, after fracture treatment, spondylosis and various other degenerative conditions.
You must be using this if you have low serum vitamin D levels. We prescribe this dose to twice or thrice daily.
Another indication is old age. As you age, your bone becomes weak, you need to have this product as you cross 50 years of age. For post menopausal women, it is a must to prevent early osteoporosis
Please consult your physician about the appropriate dose that you require.
3. What is different in Apley?
Comparing other calcium supplements, this blend consists of bisglycinate form of calcium, which is highly absorbable. Thus, it is more efficacious than other forms of calcium like citrate, oxalate and carbonate.
Besides, policosanol present in Apley is good for your lipid profile. Similarly, berberine in this supplement also promotes good glucose metabolism.
4. When not to take this tablet?
Don't take them if your serum levels of vitamins and other constituents present in this molecule are higher. We also recommend not taking them if you have any hypersensitivity to any constituents.
5. Side-effects of Apley
Being a nutraceutical, the overall side-effect profile is negligible. However, you may experience nausea and bloating occasionally. Other peculiar side effects like rashes or hypersensitivity are rare.
6. Safety Concerns
Please! do not take Apley with alcohol. This drug is safe in kidney and liver diseases. This medicine is safe in pregnancy and lactation. You can use this drug while driving.
7. Quick tips
Take this medicine in the morning and evening after your large meal.
Avoid beverages, alcohol and smoking while taking this drug for best results.
You can well tolerate this medicine. But, you must take in time.
Consult your doctor if you don't see any effect for 2 weeks.
Do call your doctor immediately if you develop edema, decreased urination, severe vomiting and rashes and other adverse effects.
Don't stop taking this medicine before consulting your doctor.
8. 9 FAQs about Apley
1. What is the use of Apley?
This is a supplement for increasing calcium and vitamin levels in your body. Your physician will prescribe this drug in almost all conditions related to your musculoskeletal system
2. How long does it take to work?
Being a nutraceutical, Apley will take at least 2 weeks for showing effect. Hence, you need to be patient and consume this drug as per your doctor's prescription
3. Is this drug safe?
In most of benign conditions, this drug is safe. If you have co-morbidities, you must, however, consult your physician. However, berberine and policosanol present in this supplement is beneficial even if you have diabetes and heart problems.
Apley is safe in pregnancy as well as lactation. It is safe also in liver and kidney diseases.
4. What is the best time to take Apley?
The best time to take this proprietary medicine is after large meals both in the morning and night.
5.Can I stop taking Apley if I feel better?
We don't recommend this. If you stop taking this medicine abruptly, there may be lack of proper outcome. Consult your physician before stopping this drug.
6. Does this drug cause weight gain?
No!, there are no reports citing weight gain while intaking this drug. So, consult your doctor for any weight gain concerns.
7. Will I have to take pantoprazole while using this drug?
Your doctor may prescribe PPI alongside this drug. However, intake is not compulsory. This drug is safe in almost all scenario.
8. What other dietary changes should I make while taking this drug?
We recommend you take a lot of fibers, decrease excess oil and fat consumption. We also advise to refrain from caffeine and carbonated beverages.
9. Is this drugaddictive?
Till date, no addictive properties of Apley are present. You can safely take this drug.
9. Our summary about Apley Tablets
Please! use this product judiciously
Always get a physician's prescription before buying this drug
Dose: 1-2 tablets per day or as decided by the physician
Please! drink enough water while taking this supplement.
Consult your physician before incase of any adverse events
Marketer: Aayam Pharmaceuticals, contact: +977-9851277428
Price of this product: 1000 Indian Rupees.
10. Disclaimer
Though medical professionals have written this content, you must take these for informational purposes only. We request to consult your physician before using Apley and any drug and supplements mentioned in this portal.